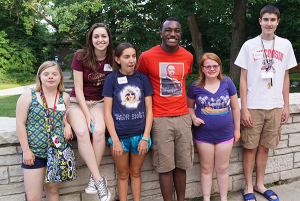 The Wisconsin Youth Leadership Forum (YLF) is a week-long leadership training and career awareness program for high school sophomores, juniors and seniors with disabilities.
Being selected to attend the YLF is a distinct honor that you can be very proud of. Please take the time to apply – you'll have the time of your life!
YLF is July 19 – 24, 2020 on the Edgewood College campus in Madison, WI.
YLF is for:
Students who show leadership potential by being active in their school and community
Students who have a disability (physical, learning, cognitive, emotional, sensory, etc.)
Wisconsin residents
Students who are currently sophomores, juniors or seniors in high school
Why Attend the Youth Leadership Forum?
To give you a place to meet other students your age who are experiencing similar issues and concerns
To help you increase your leadership skills so you can further your future goals and reach them
To assist you in becoming a leader in your school and community.
If I'm interested, what do I do next?
2020 Application Available in January!
You will need to complete the application, get 3 letters of recommendation that highlight your leadership skills and complete two essay questions
Submit your application by April 5, 2019  (postmarked)
Please return your completed application to:
Jenny Neugart
Wisconsin Board for People with Developmental Disabilities
101 East Wilson Street, Rm. 219
Madison, WI 53703
Phone: 608-266-7707
Or, email your completed application to jennifer.neugart@wisconsin.gov as a Microsoft Word or PDF file.
Interested in working at the YLF?
If you'd like to spend a week working with some awesome and eager young adults, complete the application below and return it to Jennifer Neugart at the contact info above.  The YLF needs Small Group Facilitators, Counselors and Peer Mentors.  Please review the following job descriptions to determine which role(s) you are interested in and qualified for.  YLF staff are typically young adults who have been through the program when they were in high school or who have personal experiences with disability and going to work, school, college, advocating for oneself, etc.
Application Deadline is March 27, 2019