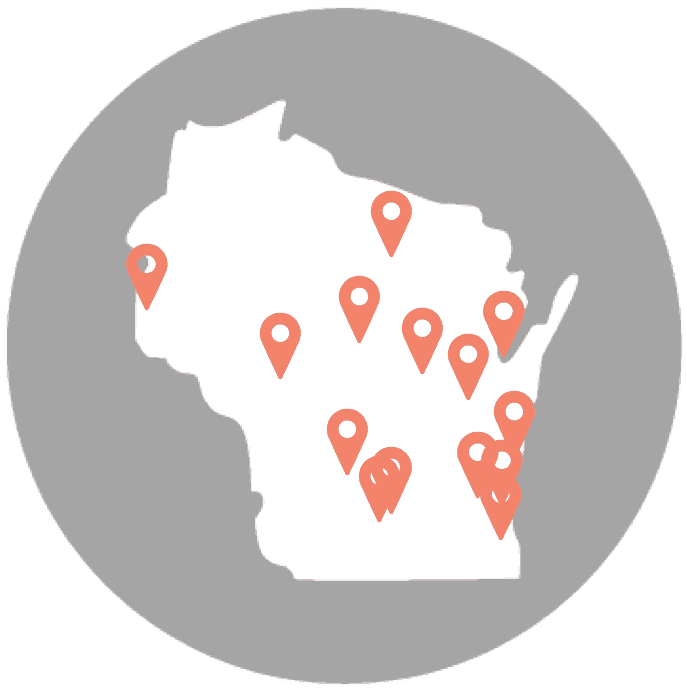 Our Board
Members of the Board come from around the state and are appointed by the Governor to serve four-year terms. At least 60% of the membership consists of people with developmental disabilities or their family members. The remaining 40% includes representatives from state agencies, providers and other organizations within the disability community.
Greg has been very involved in the Wisconsin Youth Leadership Forum over the years and graduated from Partners in Policymaking. He served as Monico's town supervisor and is currently a volunteer firefighter. "I'm a person who has a disability that doesn't let the disability run my life." 
Sydney is a self advocate on the BPDD board and is also the current Board President for the Wisconsin Youth Leadership Forum. She is a Partners in Policymaking alumni and became a crisis counselor for Crisis Text Line in December of 2019. "I got involved with advocacy because I want to make Wisconsin a better place for all people with disabilities."
Kedibonye is the mother of a child with disabilities and works as an investigator with Disability Rights Wisconsin. She has worked extensively with Wisconsin educators and families to promote culturally responsive family engagement and believes that we can accomplish great things by coming together and finding our common causes.
Pam is a financial professional, a mother of a child with a developmental disability and a disability advocate. " My great passions are to connect with others and help educate families by empowering them to make informed decisions. "
It is both my honor and privilege to represent people with disabilities in a dual capacity for WIBPDD: as a supportive family member and committed provider. My mother is Ho-Chunk and my father was Standing Rock Sioux. I reside in Nizura (Wisconsin Dells) with my family and relatives. I will steadfastly advocate for cultural responsivity and equity lenses in collaborative efforts that benefit people with disabilities. 
Stephenie is from the Fox Valley Region. She represents her community as a self-advocate on the Wisconsin Board for People with Developmental Disabilities (BPDD). " This appointment allows me to hear from and work with others who bring their own perspectives, valuable talents, passions, and areas of expertise to the table. Using my own experience of living life with a disability as a backdrop, I lend my unique voice and perspective to this forum and put it to good use as a representative for my community."
Marcia is basic needs and community advocate. She was appointed as a family member representative on the board. Marcia is also on the Milwaukee county Commission for Persons with Disabilities. 
"I wanted to be on the board to be able to build a gateway for 2 family members and to bring forth and engage in a meaningful lifestyle by breaking barriers. The best way to help yourself is putting your arms around someone else."
Nathan is the sibling of a person with disabilities, a Partners in Policymaking graduate, and a longtime advocate for people with disabilities. Nathan works as a Vocational Rehabilitation Specialist at the Division of Vocational Rehabilitation  
Andy Thain is a self-advocate with cerebral palsy. From 2011-2016, he started and ran his own business that helped other people with disabilities who relied on in-home care,  He is very interested in addressing the caregiver shortage as well as issues around integrated employment for people with disabilities. "I believe given the right supports everyone should be able to have the opportunity to work and live fulfilling lives."
I look forward to being able to represent Western Wisconsin on the board. It's an area of the state that I feel is sometimes overlooked. My personal favorite areas of disability Policy include ADA compliance transportation issues and the caregiving crisis.
George is the parent of an adult son with a disability and has spent many years advocating for people with disabilities to be fully accepted in the community."I want to improve society's understanding of how much people with disabilities have to contribute to the well-being of our communities."
Barbara has worked for many years advocating for individuals with disabilities through her position at Disability Rights Wisconsin. Barbara is committed to providing high-quality and adequate community supports that are critical for people with complex disabilities so they are both safe and welcome in their communities. "We all have a role to play in supporting people with disabilities to have productive lives!"
Felicia Clayborne lives in Wauwatosa, WI. She is intellectually disabled and visually impaired. She is a cleric leader and has her own travel group named Abilities Travel Club. Felicia statewide advocate. "The reason why I want to be on the BPDD board for make an impact within the I/DD community and to empower others around me and even the I/DD. I want to make sure that we as board can achieve the goals that we have set out to do."
Anna works for the Division of Vocational Rehabilitation as Deputy Director for Bureau of Consumer Services. She is interested in helping individuals with disabilities realize their inherent strengths, value and find success through employment and community engagement.
Desi is determined to live a completely independent life.  "I want to make the system better so people don't have to go through what I did when I lived in a group home."
Jocelyn has been an educator and advocate for over ten years. "I believe  every human being  deserve to be treated equally. The BPDD board allows me to be a beacon of hope and light for those without a voice."
Cindy Piotrowski is currently the Director at the Aging and Disability Resource Center of Portage County. Cindy is responsible for the successful management of the county department that administers a variety of community-based services and access to long-term care. She aims to assist seniors and adults with disabilities to maintain physical and mental well-being, independence, safety and dignity.
Lisa is the Family Resiliency Unit Manager with the Manitowoc County Human Services Department. Lisa has the opportunity to work with teams in the Children's Long Term Support Program, Children's Community Options Program, Coordinated Services, and county Birth to 3. Lisa's passion is finding people's strengths and building upon those!
Tricia serves as a family member/caregiver representative on the Board. Her unique perspective comes from raising her brother as well as living with two parents who were both diagnosed with a disability. She understands the challenges individuals with disabilities and non-traditional caregivers sometimes encounter. "I feel honored to be included as a member of a group I believe is filled with authentic voices."
I hope that with my personal experience of being a caregiver and family member of someone with a disability that I can help speak out on behalf of him and others.  I want to help make a difference in the lives of people with developmental disabilities.
Carrie serves on BPDD as a representative of the University of Wisconsin-Madison, Waisman Center, University Center for Excellence in Developmental Disabilities (UCEDD). "I have worked over 20 years in pursuit of my personal and professional goal to improve the quality of life for individuals with intellectual and developmental disabilities and their families."
Gail Bovy is the parent of a child with disabilities and a passionate disability advocate on the national level. While living in Washington D.C., she was instrumental in sponsoring and developing the ABLE Act legislation.
Kevin works for the Division of Medicaid Services as a Policy Initiative Advisor. He is one of the board's official state agency representatives. "I am honored to serve on the Board and collaborate with the many partners to improve services for our Wisconsin citizens."
Patrick is a self advocate.  Issues that are important to him include housing, transportation, and employment. He would like to increase his advocacy.  Here is his video statement.
Ashley is a disability advocate who has spoken around the state of Wisconsin advocating for individuals with special needs. She is a Wisconsin Policymaking Partner, Employment 1st Ambassador and President of People First's Rhinelander Chapter. Her motto is "Cross out the Dis and Embrace the Ability."
Daniel Parker is the assistant director of special education at the Wisconsin Department of Public Instruction and the Board's liaison with the Department of Public Instruction.
Hector is the Executive Director and founder of PADRES E HIJOS EN ACCION. "I envision a world in which all people with disabilities have the opportunity to enhance their quality of life, and strengthen the civic life of the community as a whole. I see the Board as an opportunity to reach this goal."
Julie is the President of Opportunity Development Centers Inc. "I am honored and humbled to be appointed by Governor Evers to serve on the BPDD Board of Directors. In my every day work at ODC, we provide supports so that every person can live their best life. It is important to me to extend this to statewide advocacy."
Kelly is a self-advocate from Mukwonago. She is also a Partners in Policymaking alumni. "I learned different experiences from Partners in Policymaking and heard lots of different stories from parents about helping their child with a disability going through difficult times. I applied to the board because I want to be speak up for myself and for others with disabilities. I also want to see services expanded in rural ares around the state."