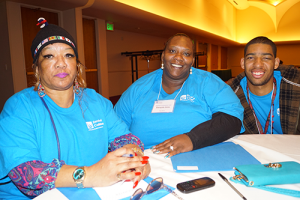 The goal of BPDD's self-determination projects is for people of all ages to have an opportunity to make choices about their lives, and to actively engage in planning their services and supports they need to live and participate in integrated community activities of their choosing. Go to the links below for more information about each project, including how to get involved and who to contact with questions
Living Well 
Wisconsin's Living Well project aims to increase health, safety, independence and well-being of people with intellectual and developmental disabilities living in the community. The Wisconsin Board for People with Developmental Disabilities (BPDD) received a 5-year federal grant from the Administration on Community Living to develop and test approaches for improving home and community-based services (HCBS) for people with developmental disabilities.
Family-Led Networks
A family led group is a network of families with children transitioning from high school or adult children with disabilities that are committed to work together to educate themselves on various aspects of adult life for their child with a disability. It's a way for families to work together to identify and meet their needs. The families decide the focus for the group, including learning more about: self-direction, circles of support, housing, employment, transportation, etc… That focus can change as their needs change. Families meet and learn about resources, provide support to each other, engage in person-centered planning, and develop resources for themselves. For more information, about the Family-Led Networks, contact Fil Clissa at Fil.Clissa@wisconsin.gov
Supported Decision-Making 
Supported Decision-Making (SDM) is a recognized alternative to guardianship through which people with disabilities use friends, family members, and professionals to help them understand the situations and choices they face, so they may make their own decisions. Simply, it's the way most of us make decision; by asking trusted friends and allies to help explain things we don't understand. SDM can help people understand information, issues and choices, weigh all their options, ensure that their personal preferences are considered and help them communicate those preferences and choices to the right people. It is a less restrictive alternative to full guardianship of the person. For more information, see http://www.wi-bpdd.org/SupportedDecision-Making/
Wisconsin Self-Determination Conference
The Wisconsin Self-Determination Conference empowers people with disabilities to have more control over their lives. Each year, people with disabilities, their families and people who support them participate in the conference to learn more about self-determination and self-directed supports so they can more live independently, actively participate in their communities, and use public funds efficiently.