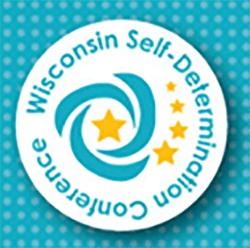 The Wisconsin Self-Determination Conference works to empower people with disabilities in Wisconsin to have more control over their lives. More than 600 people each year participate in the conference to learn more about self-determination and SDS so they can live independently, be members of their communities, and use public funds efficiently. The conference participants include people with disabilities and their family members, direct care providers, and professionals from Wisconsin's disability community.
Mark Your Calendars now for the 2018 Self Detemination Conference
Monday, October 29 – Wednesday, October 31
Dates to Remember
Call for Presenters Opens: Feb. 1, 2018
Call for Exhibitors Opens: May 1, 2018
Registration Opens: July 1, 2018
Call for 2018 SD Conference Presentations
Are you interested in presenting at the 2018 Self-Determination Conference? We are seeking session presentations for Tuesday, October 30 & Wednesday, October 31.
Proposals must include a self-advocate(s) as a lead or co-presenter.
Panels should be limited to no more than 3 people.
Conference sessions must support Self-Determination and Self-Directed principles.
Presentations must include an activity and tools that can be used at the session and as a takeaway.
Presentations should focus on practical, take-home strategies that people can implement in their work and lives.
Sessions should not promote specific agencies or products.
Repeat or similar sessions from previous conferences will not be considered.
Sessions will be 1.5 hours in length.
A typical session has an audience of 50-75 attendees.
If your session is accepted, presenters will be provided with a one day pass on the day of your presentation. If you would like to attend the entire conference, you must register. Self-advocate presenters can apply for a scholarship.
Download the Proposal Form (If you would like the form in other formats, contact Fil Clissa fil.clissa@wisconsin.gov)
Past Self Determination Conference Resources 
2017 Self Determination Conference Resources