Conference Presentation Proposal Announcement
Are you interested in presenting at the 2019 Self-Determination Conference?  We are seeking session proposals for Tuesday, October 15 & Wednesday, October 16.    
This year's theme: Self-Determination: Powered by Innovation will explore and showcase how technology is helping people with disabilities lead Self-Determined lives.
Things to know when submitting a proposal:
Proposals must include a self-advocate(s) as a lead or co-presenter.
Panels should be limited to no more than 3 people.
Conference sessions must support Self-Determination and Self-Directed principles.
Presentations must include an activity and tools that can be used at the session and as a takeaway.  Presentations should focus on practical, take-home strategies that people can implement in their work and lives.
Sessions should not promote specific agencies or products.
Repeat or similar sessions from previous conferences will not be considered.
Sessions will be 1.5 hours in length.
A typical session has an audience of 50-75 attendees.
Download the Application: Here
All proposals are due by 12 p.m. on Tuesday, April 2, 2019.
Please submit your completed proposal form to:
Fil Clissa at Fil.Clissa@wisconsin.gov  or mail to BPDD, 101 E. Wilson St., Room 219, Madison, WI 53703
2018 Self-Determination Conference Resources!
Monday, October 29 – Wednesday, October 31 2018
The Wisconsin Self-Determination Conference works to empower people with disabilities in Wisconsin to have more control over their lives. More than 600 people each year participate in the conference to learn more about self-determination and SDS so they can live independently, be members of their communities, and use public funds efficiently. The conference participants include people with disabilities and their family members, direct care providers, and professionals from Wisconsin's disability community.
Conference agenda with session titles can be found below along with the electronic copy of the conference brochure.
Keynote Sessions
Day 1-Social Capital is One Superpower that can lead to a wonderful Life
The World Bank has been using the term social capital for more than 50 years to help people in under-developed countries build a better life. To develop social capital, people need time and space to connect with others, time to build trust with friends, a means to effectively communicate, and an opportunity for genuine participation, not mere presence. Beth Terrill and Cathy Ficker Terrill will focus on the importance of building social capital and connecting to help build local community connections.
Day 2- The Power of Telling Your Stories
Superheroes have many tools – and while some are physical, some are actions –  like telling a story. Fortunately, Ex Fabula has a lot of experience helping people to use the power of story. In this interactive program, Ex Fabula Executive Director Megan McGee revealed some tips to craft a good story, a special guest that inspired the audience with an example story, and the audience had a chance to craft and share their own "UltraShort" stories.
Recorded Sessions
Supporting Your Employment Goals Through IRIS
This presentation focuses on self-directed employment. Amy Chartier and Chris Sell talk about the value of employment and services that are available to support your employment goals. They explore the path of employment, informed choice, and how you could change your life if you had the money to do what you want.
Watch the recording HERE
The Power of Love: the Andy & Beth Detienne Story
This is a story of a remarkable journey. Andy and Beth Detienne recently celebrated 21 years of a happy, fulfilling, and stable marriage. They live independently, are successfully employed in the community, and provide positive role models to all who know them. Andy and Beth share their story and you will come to understand some of the challenges that have been overcome and some that will always be there, the various supports that are available, and the unique abilities that Andy and Beth bring to their marriage.
Watch the recording HERE 
2018 DieHard Awards
A Diehard is someone with a steadfast commitment to the principles of self-determination. Each year we select a few people who truly exemplify the meaning of a Diehard. This year we have 6 awards to give out. Watch the DieHard awards video from the conference: HERE
Jennifer Kratsch: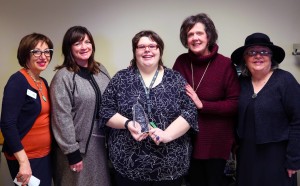 Jennifer is a positive role model to other self-advocates with Guardians who have gone through the fight to earn back their right to vote. She recently spoke a press conference for National Disability Voter Registration week. She has a great attitude and is always willing to volunteer to attend events to represent People First. She is working hard to increase membership in her Ozaukee County People First Chapter. Congratulations Jennifer!
Marilee Adamski-Smith: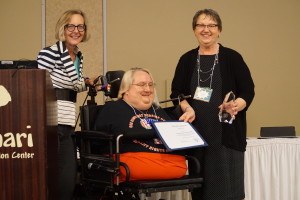 Marilee is a lifetime of leadership in the disability movement and is a role model for other self-advocates. For the last 2 years she has been a strong national leader through ADAPT- a national disability rights organization the played a crucial role in stopping the GOP healthcare bill that would have decimated Medicaid. ADAPT provides its members the opportunity to lend their voice for disability advocacy. ADAPT is the only self-advocacy organization that uses non-violent direct action and civil disobedience as tools for advocacy. In her personal life she owns a graphic design business (Adamski-Smith Multimedia Solutions). She was also features in the Bold Beauty Project- an arts exhibition featuring women with disabilities. She says: "I am thankful for all the experiences that I have had in my life. They have shaped me into the person I am today. My Parents wanted me to be independent and successful in my life. My disability does not define me." Congratulations Marilee!
Cathy Derezinski: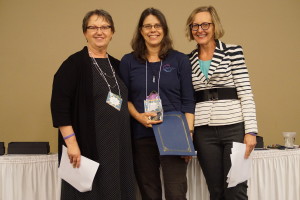 Cathy colleagues are sure she has been an advocate her entire life. She never says "no", she says "How, when, where do I need to be?" Cathy is a Superhero, plain and simple. She is down to earth, leads by example, and has a love of people and nature. She has a strong desire to see every person enjoy every minute of their day to their best ability. People who know  Cathy describe her as "kindhearted, creative, and inspiring. It's an honor to work with her and witness the changes she makes in people's lives. She makes all of us better" Cathy has high expectation for herself and our legislature. She will often  time  personal time off to  drive to  Madison to attend hearings and will often have a  car load of self-advocates with her. Congratulations Cathy!
Patti Becker: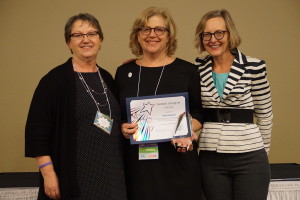 Patti is the consummate connector! She crisscrosses the state to provide outreach for self-direction, and always brings back lots of stories about her experiences connecting others and making connections. In Patti's world, the idea that there are six degrees of separation between everything in this world comes down to just a couple of degrees. She can go to the strangest most remote places and somehow someone she meets is related to someone she knows or  she has some kind of connection with. She really loves the story –Her curious spirit about people, who they are, and what their story is leads her into amazing conversations and experiences. She is an ideal ambassador for self-direction because she so passionately believes in the power of community and the individual to reach their full potential in their community.  Patti is a tireless and pragmatic advocate working on behalf of individuals who strive to lead self-determined lives. Over the span of a 25-year professional career, and in her current role as Manager of Community Partnerships at TMG, Patti has championed innovative and sustainable ways to advance the dignity of and community inclusion for individuals with various abilities. Patti takes every opportunity to advocate on behalf of others, but does so in a way that empowers people as self-advocates, supporting them to amplify their voices to bring about positive change. Congratulations Patti!
Barbara Beckert: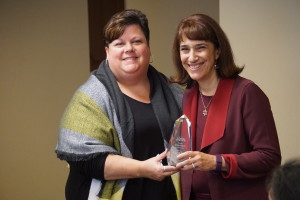 Barbara provides leadership for DRW's work Southeastern Wisconsin and beyond. This year she took over the HAVA grant work around voting and voter access. Under her leadership the Disability Vote Coalition has become a strong force in Wisconsin, hosting numerous  voter advocacy events, educating Wisconsin citizens, and creating accessible resources to  help all people understand their voting rights. She is always available, responsive, determined, and passionate about her work- she never seems to  sleep! She is a wonderful role model for all women who aspire to be in leadership roles and is supportive of new advocates as they are learning to  use their voice. Congratulations Barbara!
Emily Flood: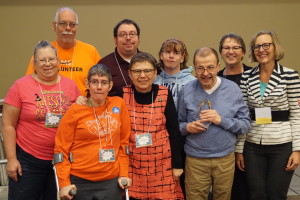 It is with a heavy heart that we present this next award to Emily Flood. Emily expectantly passed away a few weeks ago. She was honored last night as one of our superheroes and we honor her today with this Diehard Caregiver Award. Emily's family up to accepted this award in her honor. Emily had an enormous heart and an infectious smile. She went above and beyond for the people she cared for. They became family to her and she did everything she could to ensure they had the same opportunities that everyone else had. She was a champion for so many. Emily was their driver, their confidant, their knitting partner, their friend. As her father said: "She loved the people society often marginalizes, the disabled, the unnoticed, the invisible people. We give thanks for her life; we grieve all that is lost".
Emily was a Partner in Policymaker, devoted and fun caregiver, and super policy advocate. Everybody who knew Emily loved her, and her care and concern for others had no bounds.
Emily was always there when you asked her to do anything, whether it was at Disability Advocacy Day or the Self-Determination Conference. She always said yes. She had a very modest, unassuming way about her but behind that sweet smile was a tenacious advocate. She was a truly beautiful human being, a loyal friend, a compassionate caregiver, a true Diehard and an everyday superhero. She will be missed beyond words. Emily will be deeply missed.
Past Self Determination Conference Resources 
2017 Self Determination Conference Resources