On Thursday, May 9th, the Joint Finance Committee plans to remove Medicaid expansion from the  budget. This put many issues for people with disabilities in jeopardy. These are several important items in the budget that may not go forward:
Wage increases for direct care workers in Family Care

Wage increases for personal care workers

Increased reimbursements for dentists, including those that serve people with physical and developmental disabilities

Funds to Serve the 1000+ children currently waiting to access the children's long-term services and supports waiver

Increased funding for mental health and crisis services and supports

Funding for Lead Exposure and poisoning prevention
Survival Coalition asks you to make four calls. Contact the Co-Chairs of the Joint Finance Committee and your two legislators.
Senator Alberta Darling, 608-266-5830 and Representative John Nygren, 608-266-2343
Find your Legislator at http://legis.wisconsin.gov/
Find Members on the Joint Committee on Finance:
https://wi-bpdd.org/wp-content/uploads/2019/04/JointCommitteeOnFinance_Members_2019.pdf
Ask them to:
Invest in programs and services critical to people with disabilities and older adults by including the Medicaid Expansion in the Budget.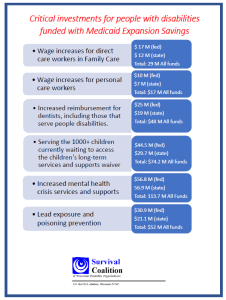 If you want more information on Medicaid Expansion, check out this link to the Press Conference materials. http://www.survivalcoalitionwi.org/wp-content/uploads/2019/05/SurvivalCoalition_May-7-Press-Release-Support-Medicaid-Expansion-FINAL.pdf