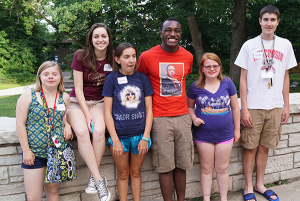 The Wisconsin Youth Leadership Forum (YLF) is a week-long leadership training and career awareness program for high school sophomores, juniors and seniors with disabilities.
Being selected to attend the YLF is a distinct honor that you can be very proud of. Please take the time to apply – you'll have the time of your life!
YLF is for:
Students who show leadership potential by being active in their school and community
Students who have a disability (physical, learning, cognitive, emotional, sensory, etc.)
Wisconsin residents
Students who are currently sophomores, juniors or seniors in high school
Why Attend the Youth Leadership Forum?
To give you a place to meet other students your age who are experiencing similar issues and concerns
To help you increase your leadership skills so you can further your future goals and reach them
To assist you in becoming a leader in your school and community.
If I'm interested, what do I do next?
Get 3 letters of recommendation that highlight your leadership skills
Complete two essay questions
Submit your application before April 30, 2017  (postmarked)
Please return your completed application to:
John Shaw
Wisconsin Board for People with Developmental Disabilities
101 East Wilson Street, Rm. 219
Madison, WI 53703
Phone: 608-266-7707
Or, email your completed application to John1.Shaw@wisconsin.gov via a Microsoft Word file.