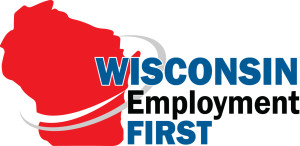 What is Employment First?
A national movement that is helping states improve their economies by supporting businesses to find talent and meet their needs by hiring people with disabilities.
The intentional creation of policies and practices that result in a significant increase in the numbers of people with disabilities being employed in the community.
A policy initiative that promotes employment in the community at minimum wage or higher as the preferred outcome for publicly funded services for all working age citizens with disabilities.
Almost all 50 states are active in the movement. 34 states have policies that support Employment First, and 14 have Employment First legislation, including Wisconsin!
What's happening in Wisconsin?
In 2018 two important pieces of legislation passed!
The Employment First law (AB 625) prioritizes community employment for people with disabilities and aims to increase the number of people in community integrated jobs who are paid wages comparable to people without disabilities. Read the law here and find a summary here.
The Partners with Business Bill (AB819) provides a small amount of funding for mini-grants to employment service providers, school districts, and funders to implement the support model.  This innovative approach helps businesses learn how to hire and support employees with disabilities using co-worker support. Read the law here.
For more information, see the Wisconsin Employment First Summary and Q & A.
Employment First Partners and Ambassadors
WI Employment First (EF) Partners are community groups, schools, and organizations that engage their local communities to increase integrated employment opportunities.  EF Partners receive small grants from the WI BPDD to support their efforts.
EF Partners often present to service clubs and business groups, organize community conversations, hold legislative events and town hall meetings, and educate people with disabilities and their families about having community jobs.
Each EF Partner supports at least two WI Employment First Ambassadors who present alongside the partner to share their stories about why a job in the community is so important to them. Learn more about EF Ambassadors and find EF Partner resources here.
Interested in becoming an EF Partner?  Applications will be available in summer 2020. 
Current EF Partners (2019-2020) include:
SPARK – Middleton
Mukwonago High School – Mukwonago
Barron County Community on Transition – Barron
Franklin Public Schools – Franklin
Lodi Agricultural Fair – Lodi
Work Plus, Inc. – Madison
Hudson High School Transition Program – Hudson
Madison Metropolitan School District – Madison
Southwest Milwaukee Consortium  – Franklin
Stories and Videos
Want to read some stories and watch a few videos?  Check them out!
Wisconsin Resources
National Resources

National APSE (Association of People Supporting Employment First) is a national organization with an exclusive focus on integrated employment and career advancement opportunities for individuals with disabilities.
The State Employment Leadership Network has put together a comprehensive list of Employment First activities, resources, and perspectives throughout the United States.
Real People, Real Jobs uses videos and written stories to highlight the employment successes of people with intellectual and developmental disabilities who are working in paid jobs in their communities.