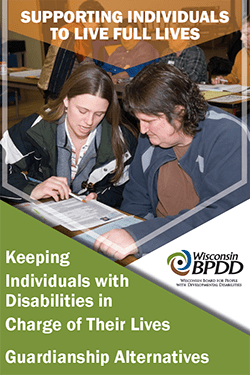 Supported Decision-Making (SDM) is a set of strategies that help individuals with disabilities have more control over their life and future. It involves family and friends working together with individuals to support them in making complex decisions.
This guide provides important information about empowering individuals with disabilities to make informed decisions about their life that protect both their rights while ensuring their safety and privacy.
It is for: family members and friends who support individuals with disabilities;legal and education professionals; and service providers, including guardians or other supporters who work with people with disabilities.
Download the: Supported Decision-Making and Other Alternatives to Guardianship Guide 
Download in Spanish: Aquí
PowerPoint Presentation on Supported Decision-Making and Wisconsin's new Supported Decision Making Law
Supported Decision-Making FAQ: – a short summary of questions and answers about Supported Decision Making in Wisconsin.
Supported Decision-Making Toolkit
Supported Decision-Making enables people with disabilities to ask for support where and when they need it. Powers of attorney, representative payees and simple release of information forms can also help families provide the needed supports and safeguards without going to court and imposing guardianship restrictions. BPDD has put together a toolkit of resources to help individuals and their supporters create a plan and fill out the official Supported Decision-Making paperwork.
Spanish Toolkit
Supported Decision-Making Webinar: Watch one of the newest webinars on Wisconsin's Supported Decision-Making Law. The presenters are Janet Zander of the Greater Wisconsin Agency on Aging Resources (GWAAR), Mitch Hagopian of Disability Rights Wisconsin (DRW) and Tami Jackson of the Wisconsin Board for People with Developmental Disabilities (BPDD). This webinar was hosted by the WI Department of Health Services. DHS Supported Decision-Making Webinar
Supported Decision-Making Resources:
September 13th Training Materials
Keynote 1: Leah Ortiz
Keynote 2: SDM Overview
Breakout Session 1: Nuts and Bolts
Breakout Session 2: Options in Legal Decision Making
Breakout Session 3: Rethinking Guardianship
Breakout Session 4: Conversations on Decision making Options
Wisconsin Guardianship Support Center provides legal information and resources to families and professionals regarding guardianship, alternatives to guardianship, powers of attorney, and other related issues. www.gwaar.org
The National Resource Center for Supported Decision-Making has resources, publications, and a state-by-state guide to information on Supported Decision-Making. www.supporteddecisionmaking.org.
American Bar Association offers The PRACTICAL Tool, which aims to help lawyers identify and implement decision-making options for persons with disabilities that are less restrictive than guardianship. https://www.americanbar.org/groups/law_aging/resources/
guardianship_law_practice/practical_tool.html
The Arc of Wisconsin and The Arc of the United States provide resources on Future Planning, Supported Decision-Making and other alternatives to guardianship. Find worksheets for slef-advocates on Future Planning and Supported Decision Making here: https://arcwi.org/2018/04/13/supported-decision-making/
Power of Attorney for Health Care Form: https://www.dhs.wisconsin.gov/forms/advdirectives/f00085.pdf
Living Will Form: https://www.dhs.wisconsin.gov/forms/advdirectives/f00060.pdf 
Power of Attorney for Finances Form: https://www.dhs.wisconsin.gov/forms/advdirectives/f00036.pdf
ABLE Accounts: Allows eligible individuals with disabilities to save money in a tax-exempt account that may be used for qualified disability expenses.  ABLE Accounts: http://69.195.107.141/week-5-how-do-i-enroll
Special Needs Trust: Managed by a trustee. Funds must be used to benefit the individual. Can be set up through a bank or through WISPACT.  WISPACT Special Needs Trust: https://www.wispact.org/wispact-trusts/
Social Security's Representative Payment Program provides financial management for the Social Security and SSI payments of our beneficiaries who are incapable of managing their Social Security or SSI payments.  Representative Payee  https://www.ssa.gov/payee/