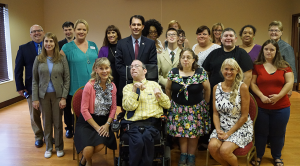 BPDD believes that all people with developmental disabilities should be fully included in the community. BPDD's current State Plan focuses on self-determination, employment, and self-advocacy.
FAMILY LED 
Families participate in person-centered planning and other training they are interested in learn more and exploring creative ways to support people in the community or plan for transition into the community. That could include housing, employment, support staff, transportation etc.
As we work with families that come from diverse backgrounds we will be learning from them as much as providing support to them on what they need and how we can help
SELF-DIRECTED SUPPORTS GRANTS
Projects funded by Self-Directed Supports (SDS) Grants work to increase the number of people with disabilities who self-direct their services and supports, including youth transitioning into the Long-Term Care system. These projects also focus on building natural community supports and connections.
WISCONSIN SELF-DETERMINATION CONFERENCE
The Wisconsin Self-Determination Conference empowers people with disabilities to have more control over their lives. Each year, people participate in the conference to learn more about self-determination and SDS so they can live independently, actively participate in their communities, and use public funds efficiently.
EMPLOYMENT 
The goal of BPDD's employment projects is for people with developmental disabilities to be employed in integrated jobs of their choosing in the community. Employment projects:
Let's Get to Work – Let's Get to Work focuses on developing and implementing policies and practices that raise community expectations and reduce systems barriers, leading to higher integrated employment outcomes for youth in transition who have significant intellectual and developmental disabilities (I/DD).
Take Your Legislator to Work Campaign – Legislators visit their constituents with disabilities at their jobs. They see how people with disabilities contribute to the local economy. They meet employers who say their business is better because they employ a person with a disability.
Wisconsin Employment First –  BPDD partners with Wisconsin APSE and People First Wisconsin on Wisconsin Employment First. This initiative promotes Integrated Employment – jobs in typical business settings at minimum wage or higher – in the general workforce for people with disabilities.
Wisconsin Employment First Conference –  This conference is for anyone interested in increasing integrated employment opportunities for people with disabilities. Conference participants learn strategies that support people with disabilities to get jobs, develop local action plans, and develop a statewide network.
SELF-ADVOCACY  
The goal of BPDD's self-advocacy projects is for people with developmental disabilities and their families to be effective advocates and leaders who will work to bring about systems change on issues they feel are important. Self-Advocacy projects:
SPARKS Grants – The purpose of SPARKS Grants is to develop local groups to work on identified changes in their communities through grassroots community organizing.
Wisconsin Disability Vote Coalition – The Wisconsin Disability Vote Coalition (WDVC) is a non-partisan effort to increase voting turnout and participation in the electoral process among members of Wisconsin's disability community.
Wisconsin Partners in Policymaking – Partners is a six-session advocacy and systems change training program. The program is designed to develop a group of seasoned leaders across the state who are able to work on policies and initiatives that will support the full participation and inclusion of people with developmental disabilities in all aspects of life.
EVENTS   
BPDD co-hosts and co-sponsors annual events that are designed to improve the lives of people with developmental disabilities and their families.
Annual events:
Disability Advocacy Day
Wisconsin Employment First Conference
Wisconsin Self-Determination Conference
MIND AND MEMORY MATTERS     
The Wisconsin Board for People with Developmental Disabilities (WBPDD) is working on a 3-year project called "Mind & Memory Matters" supported by the Alzheimer's Disease Initiative – Specialized Supportive Services (ADI-SSS) Grant awarded by the federal organization Administration for Community Living (ACL).
The purpose of the project is to increase awareness for the connection between Alzheimer's/dementia and those who have been diagnosed with I/DD (Intellectual/Developmental Disabilities) by providing outreach, screening, training, and support for professionals, caregivers, families and individuals with I/DD.
There is a partnership between WBPDD and WI Department of Health Services (DHS)to inform families and care providers on the prevalence of Alzheimer's/dementia in the Intellectual/Developmental Disabilities community.
For more information go to: www.MindandMemory.org